In the world of cinema, independent filmmakers craft stories that deeply connect with global audiences. These storytellers use their creativity and determination to bring their visions to life, even with limited resources. However, they often face a significant hurdle: navigating the complexities of film budgeting software and financial planning, which can overshadow their artistic pursuits.
Imagine a filmmaker with a great script, eager to share their story. But they struggle with complex budgeting software designed for accountants, not filmmakers. Budgeting a film, a crucial step for success, becomes overwhelming, even for dedicated storytellers.
Now, there's an answer: Saturation, a new film budgeting software.
This tool aims to change how you budget and finance your films. In this article, we'll see how Saturation tackles these issues, offering an easy-to-use toolkit to simplify budgeting, improve planning, allow real-time collaboration, and more. Saturation wants to be the go-to tool for navigating the journey of bringing stories to life on the big screen.
The Story of Saturation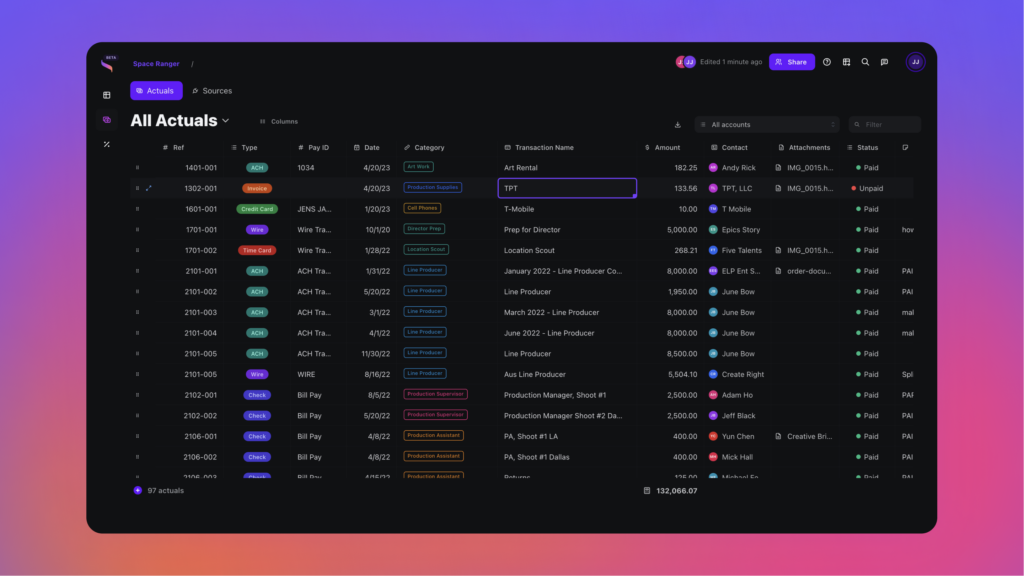 Like many great creations, Saturation was born out of a problem without a convenient solution. And this is a problem that many filmmakers have surely encountered.
The Idea
In an age of immense technological progress where our computers and phones do just about anything we want, Jens Jacob, a film and event producer with over 12 years in the industry, noticed how strikingly insufficient his film budgeting experience was. He found himself bogged down by all of the issues current budgeting software provided him. In his own words, "I was drawn to this industry to create and share compelling stories, not to get buried in spreadsheets and financial management." So Jens took matters into his own hands and worked to create Saturation: a piece of film budgeting software created by filmmakers for filmmakers.
The Purpose
A core principle of Saturation is its accessibility. Jens has said that "Saturation is the culmination of my belief that the power of filmmaking should be in everyone's hands, irrespective of their background." Saturation is ready for users of all skill levels, no matter if they're working on a film, a music video, or even a photoshoot. So if you're a newbie to moviemaking looking to get a start or you're a seasoned veteran looking to upgrade your filmmaking process, Saturation was made with you and your goals in mind.
Key Financial Features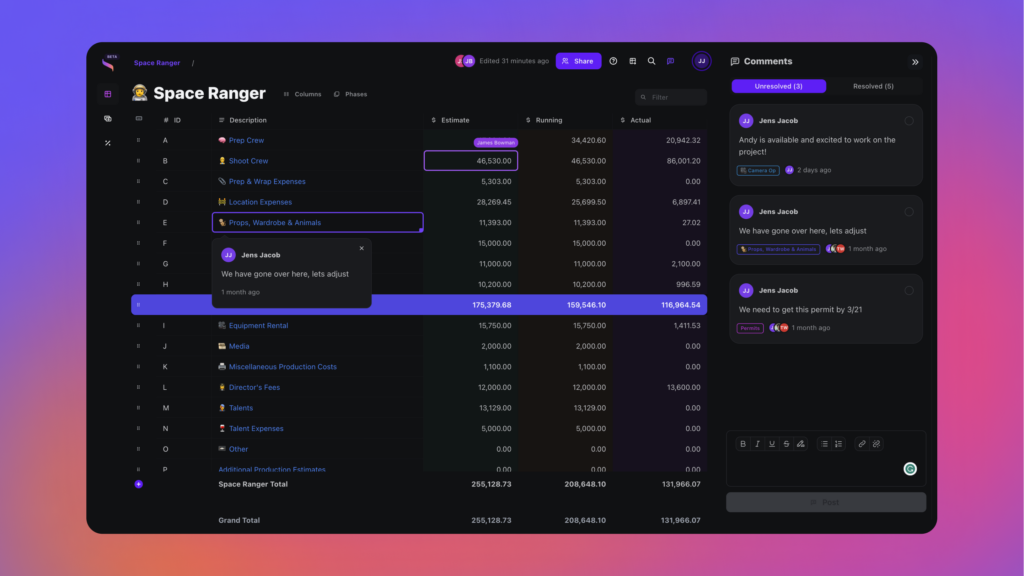 Saturation contains tons of useful features to help make budgeting your film a success. Let's take a peek into some of them to see how these features, combined with a slick interface, make Saturation the ideal film budgeting software for independent filmmakers.
Collaborative and Organizational Features
An important feature of Saturation is the ability for multiple users to all edit pages quickly and easily at the same time. No need to download, upload, and share constantly evolving files with you and your fellow filmmakers. All of you can instantly access, edit, comment, and more. Plus, with the ability to effortlessly organize all of your workspaces and projects and decide who has what sort of access to which files, managing your productions and finances is secure and simple.
Side-by-Side Comparison and Segmentation
Once you have all of your collaborators hooked up to the same project, it's time to start budgeting. Luckily, you can get instant access to comparisons between your actuals and your budget through Saturation. With real-time editing, you can compare the two without the need to use a complicated piece of software or learn any complex Microsoft Excel equations. And segmentation gives you the ability to more simply add different columns of finances to run alongside one another, allowing you to compare different locations, phases of production, and more.
Interconnectivity with Banks
Saturation takes advantage of Plaid to make importing transactions a cinch. Plaid is a platform that allows software like Saturation to interface directly with your banks or other monetary sources. And don't worry! Plaid is trusted by well-known organizations like Venmo and SoFi, meaning your transactions are safe and sound with Saturation. With connectivity with over 12,000 different financial institutions, importing transactions, integrating them, and organizing them with Saturation is possible in almost any situation.
Ease of Use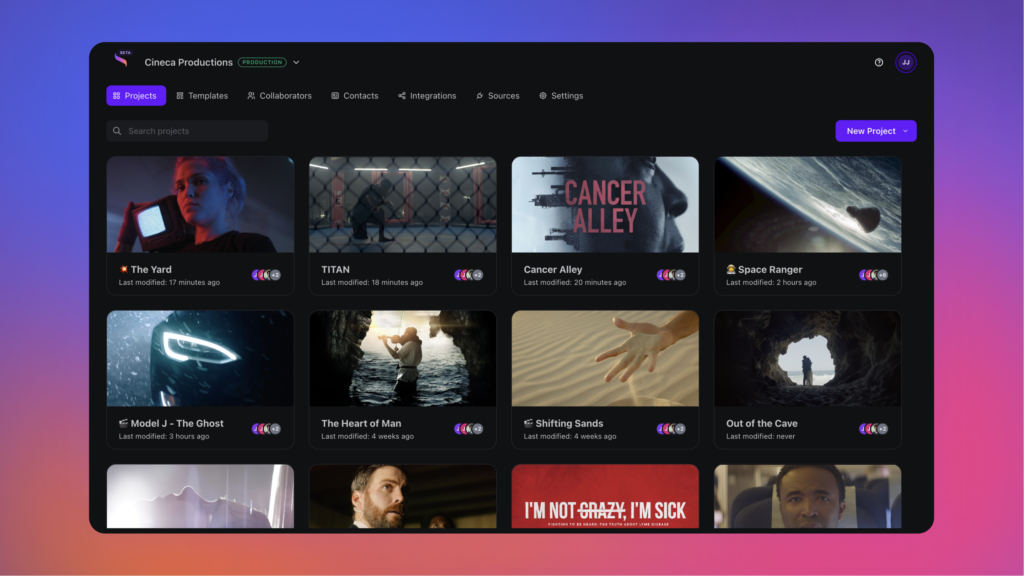 Saturation includes all of the previously mentioned monetary features but has made all of them so easy to use and included several other features that make the software so accessible.
Templates Included
Looking to jump right in and have your spreadsheets set up for you already? Saturation provides templates to select and build your budgets off of. In addition to several generic templates for projects like film, music videos, TV episodes, and more, Saturation also provides specialized community-made templates like the Discovery Network Template or the AICP Commercials Template to use as well.
Multi-Platform
Maybe you want to use your film budgeting software at home on your laptop and then give it a shot on your tablet or phone while on set. Saturation makes that possible. Since Saturation is cloud-based, all of your budgeting information is accessible anytime anywhere, regardless of the device you choose to use.
Free to Use
Best of all, Saturation is available for free, right now. Access to budgeting and actualization can be yours at no cost. And if you want to try all of our features from our premium packages, you can give them a shot for thirty days for free. Overall, the various pricing options of Saturation have broken barriers, and allow anyone, regardless of the type or size of production, to use this film budgeting software.
Conclusion
In the ever-evolving landscape of independent filmmaking, innovation is the heartbeat that propels dreams into motion. Saturation stands as a testament to this spirit of innovation, offering a lifeline to filmmakers who are determined to stand out and make their mark on the cinematic world. As we conclude this exploration of Saturation and its potential to revolutionize film budgeting software, we find ourselves at the threshold of a new era for creative storytellers.
Gone are the days of drowning in complex spreadsheets and navigating financial uncertainties in confusion. With Saturation, filmmakers can now focus their energy where it truly belongs: on crafting captivating narratives that captivate hearts and minds. The program's comprehensive features and accessibility provide a roadmap for success, empowering filmmakers to confidently navigate the intricate financial landscape.
And if you're still looking to get a budget to work with for your short film, enter our film funding contest! Your short film idea can be made a reality by winning our contests. Winners will receive up to $10,000 in funding for their short film. To enter, submit one sentence explaining the premise of your short film. No need to submit an entire script. Head to the entry page and submit your sentence now!